Two 1947 Monarchs on Vancouver Island
By Bill Sherk
The Old Car Detective
Ted and Jim Jennings are brothers and live in Victoria, B.C. Both are active members of the Early Ford V8 Club Regional Group #109 on Vancouver Island. And each brother owns a 1947 Monarch 4-door sedan built in Windsor, Ontario, exactly 70 years ago.
Ted Jennings was the first to acquire a '47 Monarch, as he explains in a letter written to me on February 23, 2017: "My love of Monarchs goes back to my
teenage years. I bought my first car when I was 15 years old, a 1947 Monarch Coupe. I was also born in 1947.
"A friend and I towed this car home and I proceeded to leave it on my parents' front lawn where it stayed for many months, possibly even a few years, until I eventually disassembled it and sold it as parts. I actually made $5.00 on the original $35 cost.
"Many years and many cars later, my brother Jim heard about a 1947 Monarch that might be for sale. As it turned out, this car was owned by a Club member who bought it with the intention of restoring it. I bought it in November 1998 and for the next ten years or so, and with the help and support of many, many people, the car was completed in November 2009.
"I had intended to restore the old car with everything original, including the flathead V8 motor, but after trying three different flatheads, I decided they would make better boat anchors.
"I had a 351 Windsor engine completely rebuilt. Due to limited space I used a
C-4 automatic transmission. I installed a Ford 9-inch rear end with posi-traction as well as parallel rear springs from a 1950 Ford.
"It seemed that a Volvo power steering box was the only option that would fit beside the engine. Gauges were modified to work with the 12-volt system. I was able to have turn signals installed by using the steering column from a 1950 Ford station wagon. The 'three-on-the-tree' shifter was used to accommodate the C-4 automatic transmission. The original starting system was left intact. #1: turn the key, #2: flip the switch, #3: push the starter button and bingo! It should start!
"Because the car had been sitting outside at some point, the rain gutters on the roof had rusted away, as well as many other parts of the car. I initially rigged up a rotisserie and did much of the rust replacement myself (rocker boxes, door posts, inner fender panels, etc.). Later, the rain gutters were rebuilt before painting the car close to the original Royal Blue.
"I managed to keep the inside of the Monarch close to authentic except for the radio. We decided to use a more up-to-date radio/CD player, but kept the original
radio as a keepsake. It took us almost three years of research to pick the combination of fabrics used on the car. Most would agree that the fabric and upholstery work is a highlight and one of the most stunning features of our Monarch.
"My wife Gloria has been a keen and tenacious supporter. Her scouting, negotiating, tasteful eye and partnership during this labour of love have been crucial to our success. The car is now treasured during special outings with the occasional visit to local car shows."
Jim Jennings bought his 1947 Monarch after hearing about it from his brother Ted, who was probably hoping Jim would get one too – and he did. Jim writes: "My 1947 Monarch 4-door sedan was originally bought new from Canadian Motors Ltd. in Regina, Saskatchewan sometime in 1947.
Then in 1949, a Mrs. Smith bought this car and drove it until 1958, when she stopped driving the car with only 63,405 miles on the odometer.
"Mrs. Smith and her young son Don (who would have been about 26 years old) put the car up on blocks in a garage in Surrey, B.C., where they lived. Fifty years passed when Don felt it was time to sell this time capsule.
"Ted and his wife had just finished rebuilding their '47 Monarch, an identical car. Don had seen Ted's car at the 2013 Deuce Days show and went home to check details on his car regarding weather seals around the doors and other important finishing touches for Ted's restoration. Don mentioned at the time that he might sell the Monarch.
"A few months later, I gave Don a call only to find out that he was about to place ads in several magazines that very day to sell the Monarch. Don said he would hold off on placing the ads and would send me some pictures of the car. A few days later the pictures arrived and after a short phone call, I bought myself a matching 4-door Monarch identical to my brother's car.
"A few days later I headed off to Surrey with a car trailer, picked the Monarch up, and brought it home. Brother Ted's is totally restored and mine is a survivor with just over 65,000 original miles to date. Both vehicles are in Victoria, B.C."
Both of these 1947 Monarchs have the letter "H" in their serial numbers indicating they were built in Windsor, Ontario.
The Monarch, its name reflecting the close ties between Canada and Britain during World War II, was a new medium-priced car introduced by Ford of Canada in early 1946 when two new separate lines of dealerships were set up across Canada, one for Mercury-Lincoln and the other for Ford-Monarch. The new Monarch was basically a Mercury 118 (with 118" wheelbase) with Monarch trim, and this gave Ford dealers a car they could sell in the medium-price field. A smaller Mercury (the 114, named for its wheelbase) was given to the Mercury-Lincoln dealers as a car they could sell in the low-price field. The Mercury 114 was basically a Ford with Mercury trim.
This expansion of the Ford dealer network in Canada after the war was astonishing. In 1939, when World War II began, Ford of Canada had 703 dealerships across the country. By 1947, the Ford and Monarch Sales Division could boast of having 760 dealers while the Mercury and Lincoln Division now had 353 dealers for a total of 1,113 dealers across Canada, a 58% increase in dealers from the prewar years to postwar years.
Perry Zavitz's excellent reference book "Monarch Meteor" tells us that a total of 6,670 Monarchs were built in the calendar year of 1947, which included 40 convertibles, 40 wood-bodied station wagons, 1,663 sedan coupes with full back seat, and 4,926 four-door sedans, by far the most popular body style. The 4-door sold new for $1526.
Perry's book goes on to trace the evolution of the Monarch from the first one built for the 1946 model year to the very last one built in 1961.
Page 11 takes us back to March 21, 1946 when "a new car was announced to take its place in Ford showrooms across Canada." That car of course was the new Monarch. A few weeks later, on April 29, 1946, President D.B. Greig of Ford of Canada delivered an address to the Annual Meeting of the Ford Motor Company of Canada: "Your Company, as you undoubtedly know, is this year introducing a new medium-priced car, the Monarch… At the same time it is well advanced with a new dealer program under which it will have one set of dealers handling Ford and Monarch passenger cars, Ford trucks, Ford buses and Ford-Ferguson tractors."
It took time for these new cars to reach all the dealers hungry for them. Eaton Motors in Leamington, Ontario, ran an ad in the local paper on Thursday, February 25, 1946, stating that "the new Ford and Monarch cars are now in production. Watch for announcement. The Monarch is a big car and is entirely new – and you'll want to see it before you decide on your next automobile."
When these cars became available and prospective customers visited the new Ford-Monarch showrooms, they saw a car that resembled the Mercury but was different. The new Monarch had a unique grille with horizontal bars, a chrome Monarch nameplate above the grille and on the trunk lid, unique side trim, especially on the rear fenders, unique trim on the trunk lid, heavy Mercury bumpers front and back, Ford-style taillights, and the Monarch name and year on the radio speaker on the dashboard.
The wheelbase at 118 inches was four inches longer than the Ford and gave you the feeling that you were getting more car for your money. This impression was reinforced as soon as you slid behind the steering wheel and looked through the windshield. Definitely a longer hood! The extra four inches in the Monarch wheelbase were entirely ahead of the firewall. Behind the firewall, the Monarch body was identical to that of the Ford.
Five body styles were available with Monarch in 1946: a 2-door sedan, 4-door sedan, club coupe with full back seat, convertible and station wagon. The two rarest ones were the convertible (only 51) and the station wagon (only 33).
The 2-door Monarch sedan was dropped for 1947 but the other four remained in production. The 1948 year offered only the 4-door sedan and sedan coupe.
Production that year was short because the 1949 Monarch arrived on May 1, 1948.
And that new '49 Monarch represented a sharp departure from previous years in no longer sharing its body with Ford but now sharing its body with Lincoln. A new Monarch dashboard was called for in 1949 because the wider body could no longer accommodate a Ford dashboard.
The Monarch from 1949 to 1951 continued to share showroom space with Ford. And under the hood of every new Monarch was Mercury's new 255 cubic inch flathead V8. A Monarch milestone was reached in 1951 with the arrival of an automatic transmission. Ford had Fordomatic and Mercury had Merc-O-Matic. Because Monarch-O-Matic would be too much of a tongue twister, Monarch owners settled with having Merc-O-Matic in script on their trunk lid.
Another Monarch milestone appeared one year later, in 1952, when the full line of Ford Motor Company cars were restyled. This is when Monarch offered its first 2-door hardtop, one year later than Ford. In 1953, another Monarch milestone was reached, although it wasn't celebrated as such at the time. This was the last year that Monarch had a flathead V8 engine. That engine had the same displacement as the '49 with 255 cubes now producing 125 hp.
Monarch's first overhead-valve V8 arrived with the 1954 model year, and although it had only one cubic inch more than the flathead that preceded it, this new powerplant cranked out 161 horsepower!
I remember the hilarious story of a 1954 Monarch Lucerne 4-door sedan purchased new in Toronto by Mr. Earl Domm. Earl and Mabel Domm lived in the upscale Lawrence Park area of the city and had two teenage children: Jim and Georgina. One evening at dinner, Jim, who had just turned 16, announced that he was going to buy an old wreck of a car and drag it home and work on it in the family driveway.
Earl was horrified at the thought! What would happen to property values up and down their street if their son turned their front lawn into a wrecking yard? The very next day, Earl went downtown to Elgin Motors at the foot of University Avenue and purchased a brand new flathead-powered 1953 Ford Mainline 2-door sedan for Jim and his older sister to drive. It had rubber floor mats and no radio but it would keep old cars from piling up all over their property.
Jim and Georgina were happy to drive it, but all of a sudden Earl realized he had created an unbearable situation. At that time, he was driving a flathead-powered 1951 Mercury 4-door sedan but now his teenage children were driving a car two years newer than his!
The following spring, Earl paid a visit to Lawrence Motors, the local Ford-Monarch dealer on Yonge Street, and traded in his '51 Merc for a brand spanking new blue-and-white 1954 Monarch Lucerne 4-door sedan with wide whitewalls and dealer-installed flush-mounted fender skirts. Now Early no longer had to feel automotively inferior to his children. And with the '53 Ford he shared with his sister, Jim lost interest in picking up an old car. And with Dad's new Monarch, Jim landed one of his first part-time jobs: cleaning the whitewalls on Dad's Monarch every Sunday morning before the family drove that car to church.
Rather than take the fender skirts off, Jim simply cleaned the dirt off the lower half, then moved the car forward to clean the other half. But Earl noticed a line of dirt on the whitewalls where the two halves met. Jim now had to clean one-third, then another third, and the final third before the tires would pass inspection. Once they were clean enough, Jim in lieu of money got a free ride to church.
About 25 years later, Jim became my step-brother, and about another 25 years after that, he told me the story of his Dad's '54 Monarch. Just after he told me, I spotted an ad in Old Autos for an unrestored '54 Monarch Lucerne 4-door sedan recently arrived from Manitoba and a "great candidate for restoration." It was only 50 miles northeast of Toronto, where we both lived.
Throwing caution to the wind, we drove up there to look at it (see photo). It needed a lot of work and in its decrepit condition, it didn't look at all like the Monarch the Jim's Dad had owned. No sale.
Then we found a fully restored one in Toronto (see photo). It was owned by Alistair Kiely and he kindly took Jim and me for a ride in it. It wasn't for sale but Jim is happy just to have had that ride and the photo I snapped of it.
Moving on with our Monarch milestones, we have to mention the two dates that loom large in this saga: May 1953, when Ford moved to Oakville, and March 1954, when production of cars finally ended in Windsor after a few months short of 50 years.
If you are restoring a Monarch or other Ford vehicle built during the ten months when cars rolled off both assembly lines, you can find out which factory built your car just by looking at the serial plate (if it's still there). The letter "H" (as we mentioned earlier) signified the home plant of Windsor, Ontario. And if your car was built in Oakville, the serial number will have the letter "K".
Our next Monarch milestone took place in the fall of 1955 when the new '56 models began rolling off the assembly line in Oakville. New for that model year was the hardtop sedan, otherwise known as a 4-door hardtop. Ford and Meteor and Mercury also had this new body style. It was hailed as the latest thing in car design, and yet today, with our greater appreciation of the need for safety, you'll have a hard time finding a company building that body style anywhere.
The next chapter in the Monarch story brings us to the ill-fated Edsel automobile launched in September 1957 and put on sale in Ford and Monarch dealer showrooms. Because the Monarch and Edsel were so close in price, a decision was made to drop the Monarch for the 1958 model year. The cancellation of the 1958 Monarch did little or nothing to help Edsel. Sales were dismal and the Monarch was revived for 1959.
And in the fall of that year, the Big Three all launched their entries into the compact market, with the Plymouth Valiant, the Chevy Corvair, and the Ford Falcon. The Falcon sold well but Monarch sales were slipping, in part because Ford kept moving up into mid-market with the Galaxie and Galaxie 500.
The price spread between the Galaxie 500 and the Monarch was so small, the writing was on the wall. The Monarch built by the Ford Motor Company came to an end with the 1961 model year. I wonder what became of the last one off the line.
It is true that a Mercury Monarch came out from 1975 to 1980, but that car relied upon the strength of the Mercury name to bring it back to life. The days of the car known simply as a Monarch were long gone. And to think this story was put together because two brothers on Vancouver Island happened to buy two 1947 Monarch 4-door sedans. Here at Old Autos, we wish for Ted and Gloria and for Jim and Marie many happy years of Monarch motoring!
I'm always looking for more stories. Email billtsherk@sympatico.ca or write Bill Sherk, 25 John St., P.O. Box 255, Leamington, ON N8H 3W2.

PHOTO #1: Jim Jennings (standing) and his brother Ted are between their two 1947 Monarchs. Jim's car is on the right with wide whitewalls and black finish. Ted's car is on the left with narrow whitewalls and Royal Blue finish. The letter "H" in the serial number on each car indicates that both were built at the Ford of Canada home plant in Windsor, Ontario.


PHOTO #2: Just to make sure you are paying attention, Ted (still sitting) and Jim posed for this photo with Jim's car on the left and Ted's on the right.

PHOTO #3: Not content with a front-end shot, the two Jennings brothers want you to know that these two cars are just as good looking from the rear.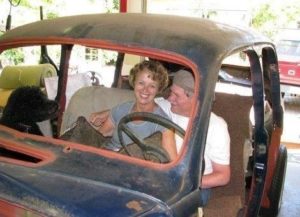 PHOTO #4: Because Ted's Monarch required extensive rebuilding, this photo was taken with Ted and Gloria inside the car. Much work still lay ahead.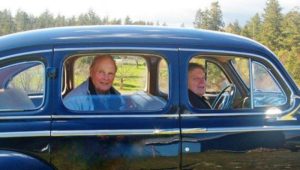 PHOTO #5: With the work finally done, Ted and his wife Gloria smile from inside their 1947 Monarch 4-door sedan. Note the front-opening rear doors.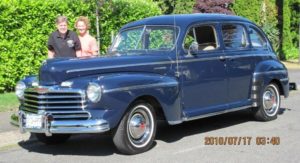 PHOTO #6: And here they are with their pride and joy all finished!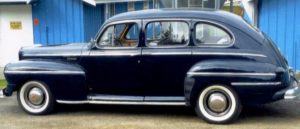 PHOTO #7: This side view of Jim's '47 Monarch shows us a car that has survived basically untouched from the day it was new. Odometer now at 65,000 miles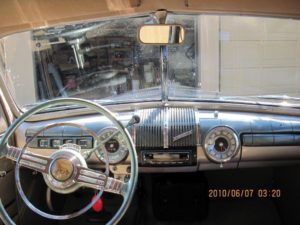 PHOTO #8: The dash in Ted's car is immaculate.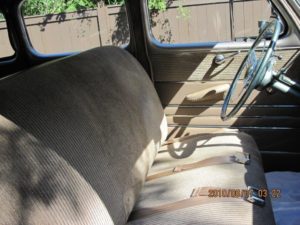 PHOTO #9: Ted's interior is finished in the same way it looked when this car was new 70 years ago.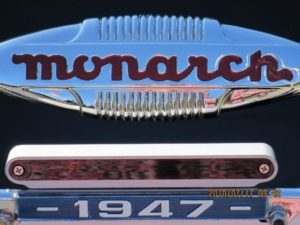 PHOTO #10: The Monarch nameplate is uniquely Canadian. It appears on the grille and trunk and in script form on the sides of the hood